Caorle On Bike
Electric bikes for sustainable mobility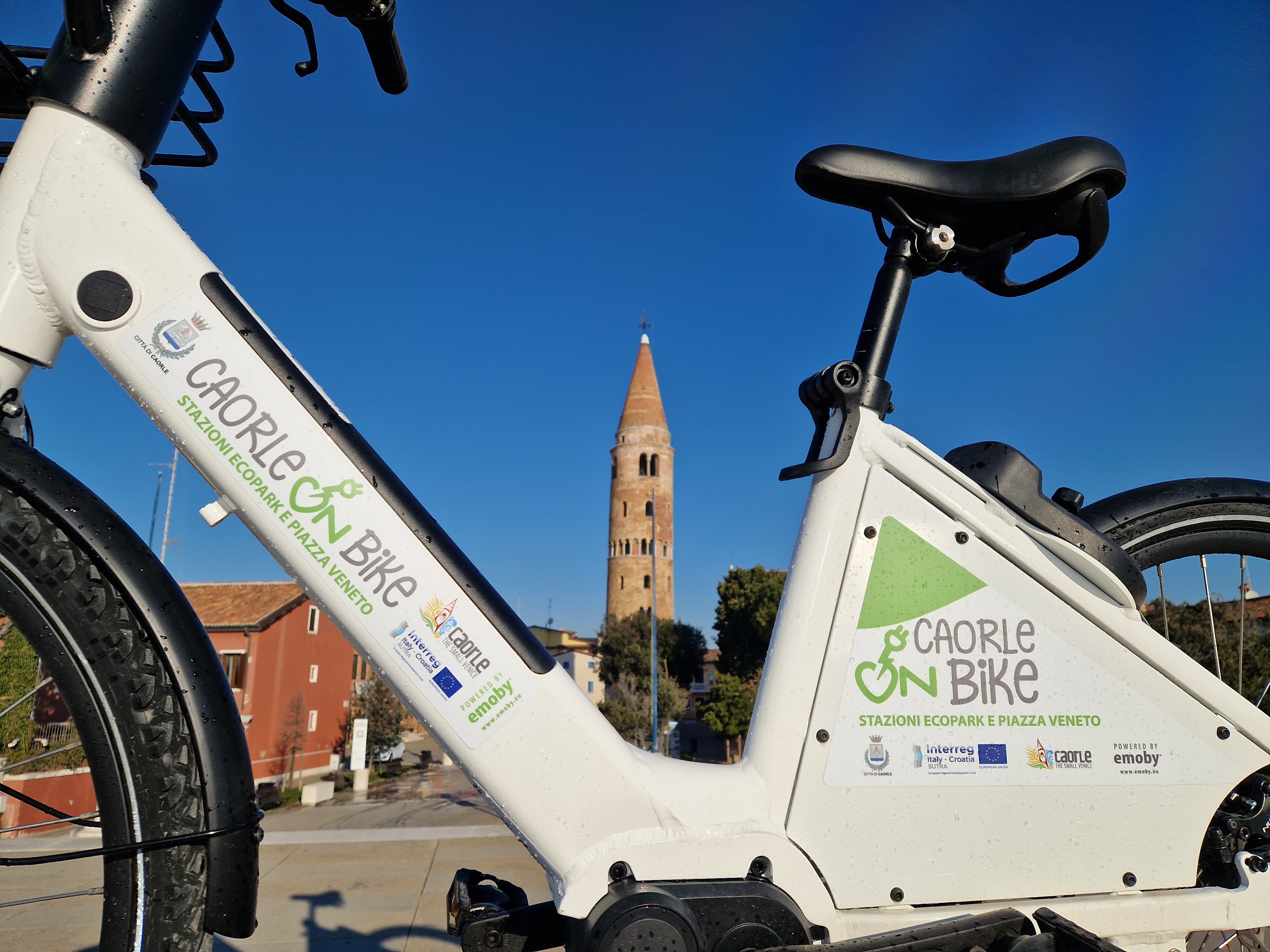 Download the App "CAORLE ON BIKE", register and insert a credit card (no prepaid)


Are you already at the Piazza Veneto cycle-station or Ecopark?
Click "Rent a Vehicle" to open the SCAN to frame the QRCODE of the E-BIKE. Click on the "Start Rental" button, accept the Rate and General Terms and Conditions of the Service. The Cycle-Station is unlocking the E-BIKE, take it out and drive carefully.


Are you looking for a Cycle-itinerary?
Click on the "Map" icon, the Cycle-Itineraries next to your position will be activated. NB This service will be activated from March 2023.


Tariff Plan of the Service: consult the "Tariffs" Section in the APP
On tap (first 60min. included): €3,00
Per minute (from the 60th minute): €0,025
Daily rate (maximum cost): € 20,00
Want to make a stop?
Park the E-Bike in an area permitted by law. Always close the electro-mechanical lock (Smart Lock) on the rear wheel by pushing the steel ring by hand until it locks. Remember that charging does not stop while you are parked. To unlock the Smart Lock, in the App click on the EBike icon, from the menu choose unlock with internet or bluetooth mode.
How to close the rental session?
Bring the E-BIKE back to a Cycle-Station, push it inside a station, make sure that the locking mechanism blocks it. The rental session has closed automatically. Check from the APP anyway.

CAORLE ON BIKE is part of the Interreg Italia - Croatia SUTRA project (Sustainable Transport in Adriatic Coastal Areas and Hinterland), of which the Municipality of Caorle is Lead Partner.


- 60 E-Bikes

- 72 electric columns

- 2 parking and charging areas: "EcoPark" parking lot at the entrance of Caorle and Piazza Veneto car park

- 8 electrical outlets for charging private E-Bikes at the "EcoPark" car park