Gusta Caorle
Local food and wine project
The
excellence of our food
and wine has made Caorle famous and the number of visitors increases every year, regardless of the season, not only because of the beauty of the
sea and nature
around us but also to taste the
quality and originality of the flavours
of our
typical products of the land and sea
and through real sensory experiences that say everything about our cuisine.
Musky octopus, queen scallop and clams
- all fished in our sea! - are the main features of the menus in the
restaurants
of Caorle and surrounding area (not to be missed, for example, is
the cuisine offered in Concordia Sagittaria!
) and they are presented according to the
traditional recipes
or with the innovative adaptations of our chefs.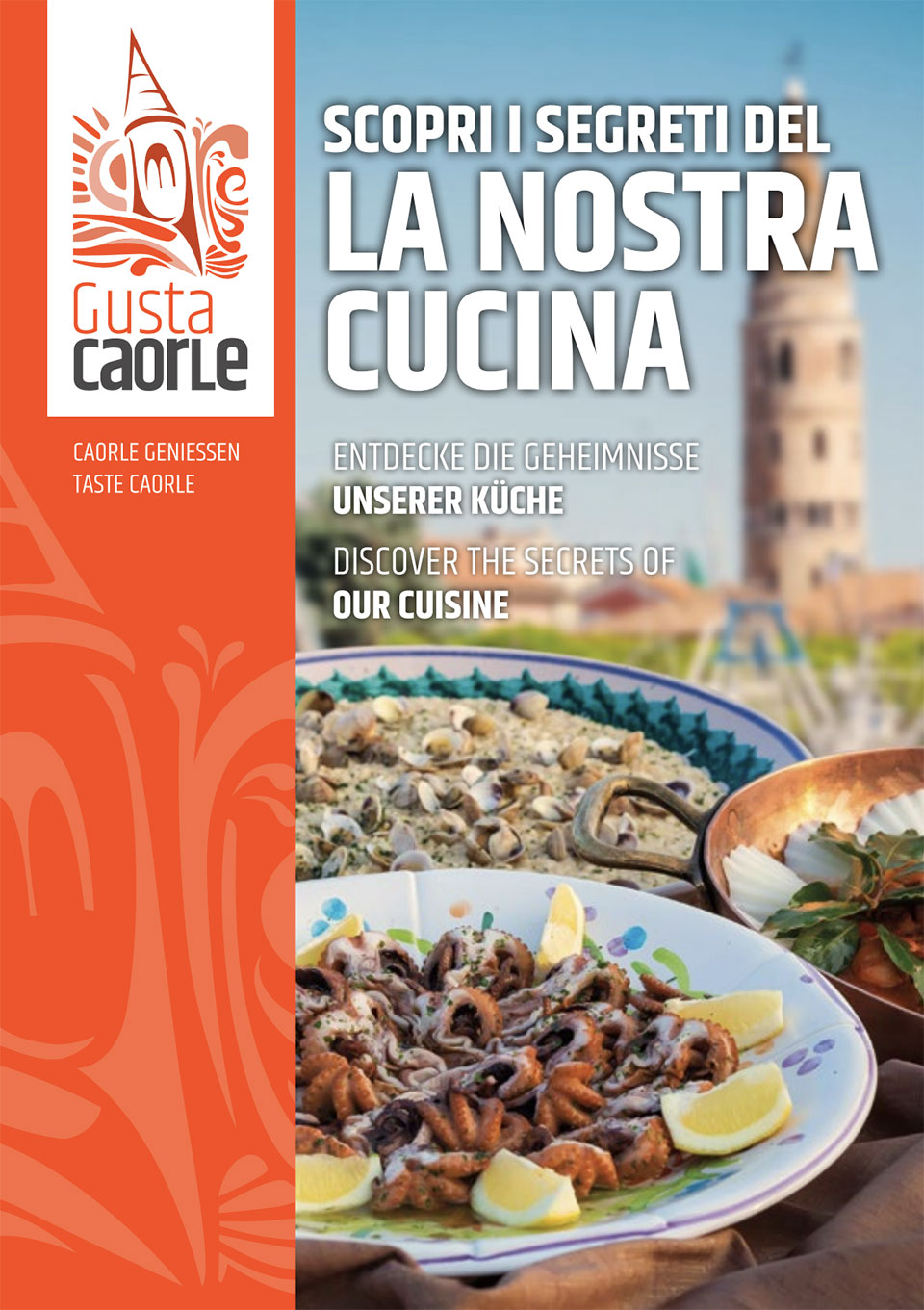 These excellent fish products are the main features, together with many other culinary delights, of events that attract visitors from all over the world. But not only them. Our wines are very popular and have you ever heard of the craft beer made in Caorle? We hope so for your sake... Otherwise you need to try it to believe it. So what are you waiting for?

Download here the flip of the project Gusta Caorle!

Here are the structures that have joined the project, in alphabetical order:
Name

Address

Telephone

Website

Hotel
Alexander

Lungomare Trieste, 65

+39 0421 82019
Alexander
AQA Palace
Via Strada Nuova, 19
+39 0421 81087
AQAPalace
Excelsior
V.le Amerigo Vespucci, 11
+39 0421 81515
Excelsior
Fabris

Viale Falconera, 29

+39 0421 81288
Fabris
Fantinello

Via Pola, 1

+39 0421 81570

Fantinello
Marco Polo

Via della Serenissima, 22

+39 0421 81205
MarcoPolo
Marisa

Viale Amerigo Vespucci, 6

+39 042181485
Marisa
Marzia Holiday Queen

Via Dante Alighieri, 2

+39 0421 81477

HotelMarzia
San Giorgio

Via dei Vichinghi, 1

+39 0421 260050

SanGiorgio
Sara

Piazza Veneto, 6

+39 0421 81123

Sara
Verona

Via Lungomare Trieste, 21

+39 0421 81384

Verona
Villa Roma
Via Falconera, 49
+39 0421 81152
VillaRoma
Name

Address

Telephone

Website

Ristoranti
Ae Do Rode

Viale Santa Margherita, 8/10

+39 0421 210372

Ae Do Rode
Ai Bragozzi

Via Riva dei Bragozzi, 7

+39 0421 212455

Ai Bragozzi
Al Cacciatore

Corso Risorgimento, 25

+39 0421 80331

AlCacciatore
Al Postiglione

Viale Santa Margherita, 42

+39 0421 81520

AlPostiglione
All'Anguilla

Calle Falconera, 5

+39

0421 84222

Anguilla
Antico Petronia

Via Roma, 1

+39 0421 212133
AnticoPetronia
Bucintoro

Via Largo Gandolfo, 2

+39

0421 82239

Bucintoro
Capri

Via dei Casoni, 50

+39 0421 82196
Capri
Da Bepi

Piazza Veneto, 6

+39 0421 81123

HotelSara
Da Buso

Via delle Orate, 2

+39

0421 210757

DaBuso
Duilio

Via Str. Nuova, 19

+39 0421 81087
Duilio
Ester Bistrot

Via Roma, 11

+39 0421

210961

Ester Bistrot
Gatto Nero

Campo Cadorna, 10

+39 349 853 0618
GattoNero
Hemingway

Via Cadamosto, 1

+39 348 9066474

SanGiorgio
Il Carro

Via Selva Rosata

+39 0421 299478

IlCarro

Le Tentazioni

Via Pola, 1

+39 0421 81570

LeTentazioni
Luxembourg

Via del Quadrante, 37

+39 0421 211387

Luxembourg
Nappa

Piazza S. Pio X, 8

+39 0421

81854

Nappa
Pic-Nic

Via Timavo, 6

+39 0421 211575

PicNic