Sailing courses and Camps
1) Sailing courses 2021 - Spiaggia di Levante, near the Church Madonna dell'Angelo

SOCIETÀ VELICA CAORLE ASD
SUMMER COURSES FOR CHILDREN, TEENAGERS AND ADULTS

From MONDAY to SATURDAY from 10:00 to 13:00 for children from 6 to 12 years old
Price per week: 180 €
From MONDAY to SATURDAY from 10:00 to 13:00 for teenagers from 13 to 18 years old
Price per week: 220 €
SATURDAY and SUNDAY from 10:00 to 13:00 for teenagers +13 and adults
Price per weekend: 170 €

Sailing course for the blind and visually impaired
The Società Velica organizes the 3rd course at national level for the blind and visually impaired.
The course will take place during the week - dates to be defined
Registration by contacting the Sailing School
Telephone: 3485980217
Email: socvelicacaorle.scuolavela@gmail.com
Info and dates here


CNSM CIRCOLO NAUTICO PORTO SANTA MARGHERITA
SUMMER COURSES FOR CHILDREN AND TEENAGERS FROM 6 TO 17 YEARS

Level: from beginner to advanced (students will be divided by age and technical ability).
For course calendar and timetables click here: cnsm calendario-corsi-vela-2021.
Boats: Laser, Bahia, Optimist and Open BIC
Registration fee: 6-17 years € 220.00. Caorle residents € 130.00.
Children of the law enforcement officers of Caorle € 130.00.
Discounts Euro 20.00 from the second brother; € 20.00 for those who repeat course in the same year.
Discounts are not cumulative and do not apply for € 130.00 fares.


2) Camps

-Vivila Camp
School Sailing and English - 5 - 9 July e 12 - 16 July 2021
Organized by: -Vivila Sailing Team ASD
For teenagers from 12 to 17 years old
Place: Via dei Greci, Porto Santa Margherita-Caorle.
Info and booking:
Tel: 3295428471

E-mail:
info@vivilavelacaorle.it

-Sailing and tennis Camp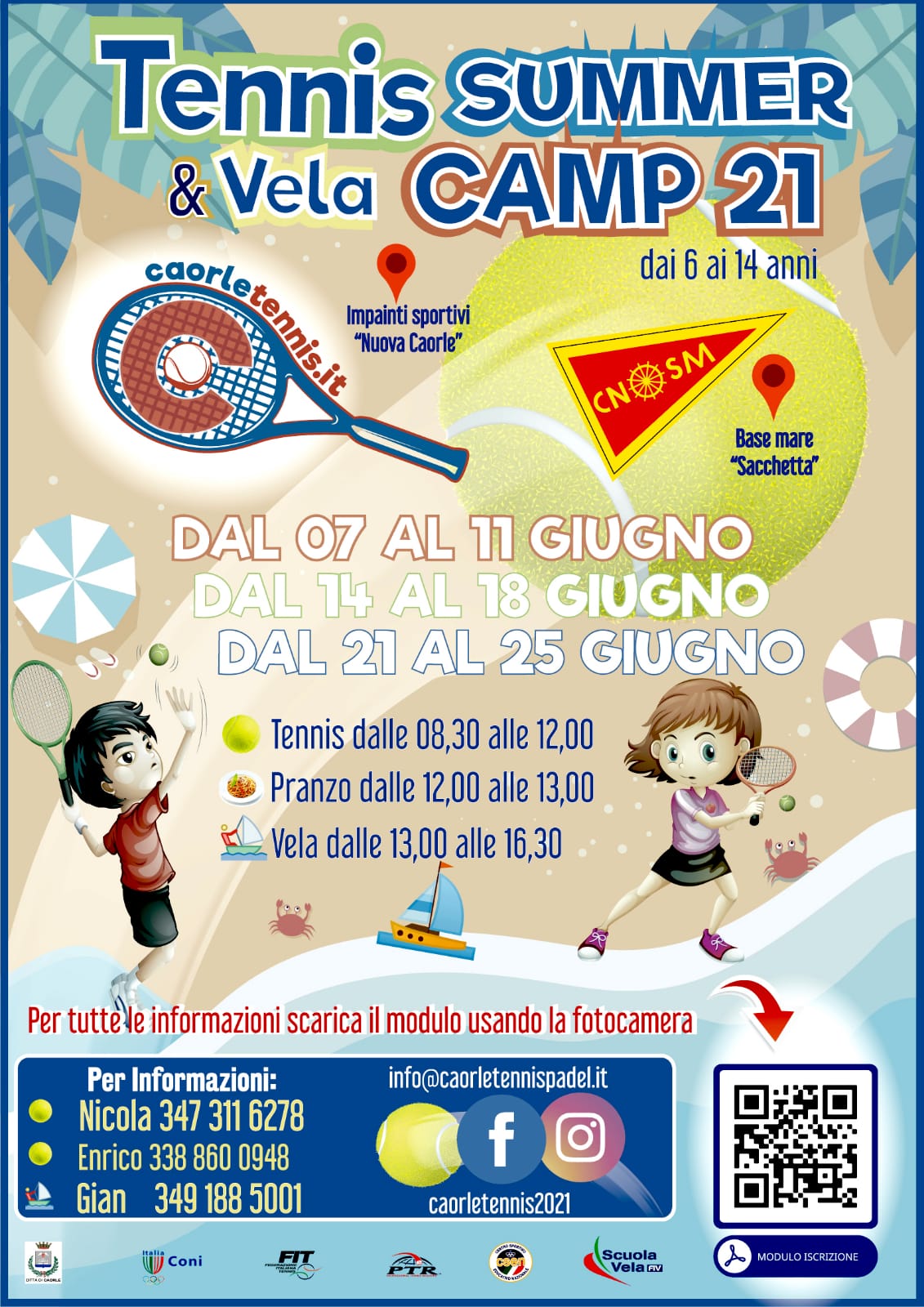 ---